Brittle Hollow
Brittle Hollow

Information

Type
Planet
Gravity
0.8-1.1
Inhabitants
Riebeck
Location
3rd planet

Notes
Brittle Hollow is the third of six planets in the Outer Wilds' solar system. Its surface is largely barren and rocky, and over time it will break apart and fall into a black hole at the center of the planet. Brittle Hollow is home to an enormous Hanging City, the Tower of Quantum Knowledge, the Southern Observatory, a Gravity Cannon, and the Black Hole Forge used by the Nomai to craft the warp cores for the Ash Twin Project.
Brittle Hollow is a highly unstable planet that formed naturally around the black hole at its center. Its dry, rocky surface is fractured and prone to collapse, and in the 22 minutes of game time the player can observe as most of the planet's crust breaks away and falls into the black hole. These pieces then emerge at the White hole next to White Hole Station. This collapse is precipitated by the balls of lava ejected from the planet's moon crashing into the surface. Traversing the planet's precarious remains is a challenging task, but despite the likelihood that a player will slip and fall into the black hole, the fact that White Hole Station lies very close to the black hole's exit point means that the planet's long drops aren't as dangerous as they are simply inconvenient.
Escape Pod 1 resides on the surface, its metal tempered by the heat of its descent to the planet. From the escape pod the player can follow a trail of precarious wooden bridges created to span the gaps between rocks, indicating that the enormous drop towards the planet's core existed millennia ago when the Nomai first entered the system.
The planet's two poles are topped with snow, and the north pole has flowing water. This leads to ice formations beneath the surface into which the Hanging City is built.
The rest of the planet's interior is made up of a mixture of blue metallic and red crystalline rock formations. The geometric lattice of these formations exhibit clear fracture points and planes of weakness, which makes it susceptible to the collapse that the player can witness in action during the game.
The Hanging City is the biggest Nomai settlement in the Solar system, hanging to the ice of the North Pole where the plant's crust was stable enough for a long-term settlement. Above the Black Hole, Nomai culture did not only survive but thrived. The City is divided in four districts located on top of each other, originally all accessible by a now broken vertical passageway.
The Black Hole Forge is suspended between the Hanging City and the black hole at the planet's center. It's the source of all the Nomai warp cores found around the solar system, including the Advanced Warp Core that powers the Ash Twin Project. The forge itself can be raised and lowered from the control room on the first level of the Hanging City, and accessed via the uppermost level, which itself can only be accessed via the warp portal on Ash Twin. The Black Hole Forge was used to craft the Advanced Warp Core, which powers the Ash Twin Project.
The Meltwater district has a controller that raises and lowers the Black Hole Forge. There's a secret hole on the surface that leads to here.
The Eye Shrine District houses derelict Nomai buildings and a small shrine with writing detailing the Nomai's thoughts and knowledge about the Eye of the Universe.
The School District was made for the children who lived on Brittle Hollow, inside there are classrooms with writing explaining their existence stuck in this solar system and a Nomai tradition called 'festivals'. There is a gravity crystal path here that leads to the Original Nomai Settlement.
The crossroads is a minor location most notable for featuring a map of Brittle Hollow (right) and being adjacent to Riebeck's camp. The player can use the map to see which locations are reachable from where, though centuries of deterioration means some of the pathways have broken down and will continue to do so over the course of the game. On the surface is located a small settlement that used to be the gravity crystal workshop. Riebeck's first camp can also be found there. Under here is the mural of Brittle Hollow that leads to the Tower of Quantum Knowledge which leads to the Southern Observatory. On the other side of the Tower of Quantum Knowledge, there is the Gravity Cannon, where Solanum took her first flight to the Quantum Moon, and also leads to the Southern Observatory.
Accessible from the crossroads or the surface, Brittle Hollow's gravity cannon is found on the equator. Its associated shuttle is resting on the Quantum Moon, and the player can recall it to read the notes inside written by a Nomai named Solanum just after landing the shuttle on the Quantum Moon and just before setting foot outside.
The gravity cannon is likely to fall through the black hole near the end of the cycle.
Brittle Hollow is orbited by the volcanic moon, Hollow's Lantern. The lava level slowly lowers as time goes on. The balls of magma that shoot from the moon crash into the surface of the planet, precipitating the collapse of the planet's crust. The Nomai named Root used the moon's lava to heat-test mineral samples supplied from the Nomai mines on Timber Hearth. These samples were then used to encase the Ash Twin Project.
Located on the equator under the crashed Escape pod 1, this village is the first place the Nomai made their home on Brittle Hollow, hidden under the surface after a now breaking down stairway. After a while, the Nomai realized this part of the crust was still too exposed to Hollow's Lantern bombardement, and they moved North along a gravity crystal path to create the Hanging City in a safer place.
On the south pole is a domed observatory only accessible from beneath Brittle Hollow's crust. There's a door on the surface, but it's broken, and the player can find Riebeck's ship and recorded notes of their plan to search the Nomai ruins on the equator for a path underground.
The gravity pathways to the Southern Observatory are broken from the beginning of the game,probably due to falling rock, and the player needs to jump from broken pathway to broken pathway to get inside.
Next to the entrance is a projection stone of a conversation with the team building the orbital probe cannon on Giant's Deep, who had been using the cyclones to launch parts into orbit only to have one piece unexpectedly driven beneath the ocean's usually-impassable current. To figure out what happened, a Nomai named Spire built two models of Giants Deep cyclones there at the observatory. The models are still present and active.
Additionally, there's a Nomai three-dimensional modeler hooked up to an Eye Signal Locator, built after and more sophisticated than the one on the Attlerock. It can be activated to show the orbits of each planet in the solar system, but is unable to locate the Eye and can only display its many potential orbits. On the same level as the Locator controls are two conversations about the Nomai's ongoing search for the Eye. One covers what they know about the Eye so far and laments their lack of progress finding it. In the other, the Nomai Mallow suggests simply launching a probe into the outermost reaches of the solar system to see if it happens to find the eye. Cassava points out that the odds of randomly firing the probe at the correct trajectory to find the Eye were extremely small, but Conoy points out there's another ongoing project that could take luck out of the equation.
Tower of Quantum Knowledge
[
edit
|
edit source
]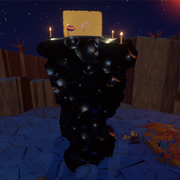 The Tower of Quantum Knowledge is suspended from the section of Brittle Hollow's crust where the Nomai found a quantum shard, and contains information crucial to the Quantum Moon pilgrimage. Most of the tower is inaccessible at the start of each loop, as the gravity panel path leading into the tower is broken and impassable. However, the planet's ongoing destruction is likely to drop the tower through the black hole partway through the loop, and once it exits at the White Hole Station it can be freely explored in zero-gravity.
The tower contains two scrolls (one congratulating a Nomai named Solanum on reaching the last step before she travels to the Quantum Moon, and one on a shelf that reminds the pilgrim that they're they're taking part in a tradition of curiosity and exploration by following in the footsteps of everyone before them who sought the Quantum Moon) and a Quantum Moon Locator.
Riebeck's notes outside crossroads

The journey here from the south pole has been, um... I'm going to go with "harrowing", because of the, um, all of the meteors. But hey, at least I made it here unconcussed and not on fire!

Okay, let's see... I poked around a little, and there's some sort of old Nomai path that starts across from my campsite, inside the ruined building with trees growing out of it.

Doesn't look like anything horrible - just stairs leading down. I can handle stairs! After I get my supplies together, I'll follow the path and see where it leads.

Riebeck's journal

Hurgh. Well. That was... deeply unpleasant. I made it this far, though. Guess that's the part to focus on, and not how I'll eventually have to get back up that path.

But wow, this place sure is something! Looks like the Hanging City is north from here. And east is a gravity cannon! I definitely want to see that

And another thing - I'm detecting oxygen from somewhere below. Which is good, since I, uh, used up a lot of my supply screaming during the trip down from the surface.

As soon as I stop dry heaving, I'm going to head farther down below so I can refill my tank.
Escape Pod Flightlog

BEGIN FLIGHTLOG: Escape Pod 1. Vessel has been mortally injured. Emergency sequence activated. Awaiting departure from Vessel.

Launching Escape Pod 3... Launching Escape Pod 2... Now launching Escape Pod 1.

ALERT. Collision imminent. Preparing for impact.

Scanning external environment... Scan complete. Minor structural instabilities detected. Pockets of breathable air detected. Adequate solar energy detected. Verdict: HOSPITABLE.

Outside pod recording

THATCH: Is everyone unharmed?

PLUME: No one was badly injured from the escape pod's impact. We're incredibly fortunate.

THATCH: This is good news, at least. Have we heard from Escape Pod 2 or Escape Pod 3?

FILIX: No, I... I'm unable to make contact. My equipment can hear the other two escape pods' distress signals, however. If it's any comfort, both pods must be structurally intact.

FILIX: I'll continue calling for them.

THATCH: My gratitude. If we can —

PLUME: Thatch, the moon is approaching again!

THATCH: Everyone brace yourselves, swiftly! The volcanic moon has returned!

THATCH: Be cautious of falling ash and debris!

PLUME: ...I believe the moon has passed.

FILIX: This planet doesn't appear eager to have guests. We are certainly unwelcome on its surface.

THATCH: We need to find shelter, and quickly. The volcanic moon won't be gone for long.

PLUME: I observed several promising sites below the surface, but we'll need to construct a way for everyone to climb safely down this cliff. Perhaps we could build platforms?
Information text

The shuttle is currently resting at the Quantum Moon.

Call the shuttle home

Activate the gravity cannon

Solanum's pilgrimage

SOLANUM: I'm at the shuttle! I'm ready to make my first pilgrimage to the Quantum Moon.

BELLS: That's exciting! You're almost ready, but there's still one more rule you need to learn. Come see me at the Tower of Quantum Knowledge.

BELLS: The tower is on the opposite side of Brittle Hollow. If you follow the path west to the Crossroads, you can reach the tower from there.

SOLANUM: My gratitude for the directions, Bells. I'll see you soon!

Solanum's Shuttle recording

SOLANUM: I am here! After watching it wander the skies for so long, I am about to stand (for the first time) on the Quantum Moon.

SOLANUM: As expected, my shuttle has landed at the moon's south pole. I will make the remainder of my journey on foot.

SOLANUM: We don't know why the Quantum Moon always welcomes its visitors at the south pole, just that this is true.

SOLANUM: As a child, I considered such unknowns sinister. Now, though, I understand they bear no ill will. The universe is, and we are.

SOLANUM: I am ready.
Hanging City - Black Hole Forge

[

edit

|

edit source

]

Advanced warp core

CLARY: I have good news, Yarrow! The advanced warp core is ready to be installed in the central chamber of Ash Twin.

YARROW: I'm intrigued, love! Everyone here working on the

Ash Twin Project

is excited to see it (Pye is beside herself with joy!).

POKE: No, it isn't!

YARROW: Is everything well at the

forge

?

CLARY: Don't worry, love; Poke is only nervous. The core is extraordinary, and her design work is beautifully clever.

POKE: The core's durability could still be improved! I need more time!

CLARY: Ignore her, Yarrow. The core is finished. And if my sister tells you otherwise, then she will be finished, as well.

Aligning towers

CLARY: Regarding the warp towers on Ash Twin: Does each tower have to be perfectly aligned with the center of the astral body to which it's tuned?

CLARY: I enjoy precision as much as the next Nomai, but if, for example, a tower's base were to shift even slightly, that tower might no longer align with its astral body.

CLARY: More accurately, I enjoy precision as much as the next Nomai, provided the next Nomai is not Poke.

POKE: We don't need the alignment angle to be exact; it only needs to be within five degrees of the astral body's center.

POKE: Of note: This gives us a slightly longer warp window. I imagine this window will last roughly several seconds.

POKE: As such, any Nomai stepping onto the warp platform during the active window will be immediately warped. We will need to be careful around the platform for the duration of the time it's active to avoid accidental transportation.

Boarding area

WARNING: Be cautious near the boarding area while the Black Hole Forge is in operation.

Core delivery

ROOT: Where am I taking this first black hole core? (And where am I taking the remaining cores once they're ready?)

POKE: The white hole cores are for the warp receivers. Each of the six receivers are being constructed at different locations, so those deliveries will be a greater pain in your cervical spine.

POKE: The tower designs in the

High Energy Lab

on

Ember Twin

reveal each receiver's location. Ask Yarrow; he is familiar with them.

CLARY: All of the warp towers are being constructed on

Ash Twin

, so the black hole cores will go there.

ROOT: My gratitude! In that case: Poke, Clary, I'm leaving for delivery! I'll send Yarrow your regards.

CLARY: Poke, I'll return to the

forge

shortly; I'm going to catch up to Root and help him deliver the first core to

Ash Twin

, just to make sure Yarrow receives it.

POKE: Of course you are.

Warp Tower designs

POKE: Of note: Yarrow believes he spotted a flaw in the warp tower designs: namely, that one of the warp towers on Ash Twin will never activate, because its warp receiver will never align overhead.

POKE: Does your romantic interest think a warp tower's alignment point is its receiver? Does he not know that a warp tower always aligns with the center of its corresponding astral body?

CLARY: That isn't an unreasonable belief, given the receiver does have to be located on (or in close orbit around) the relevant astral body.

CLARY: I seem to recall that was your understanding of warp technology, at first.

CLARY: No, Yarrow understands the distinction. He likely doesn't realize the

Hourglass Twins

are so close together they function as a single astral body, with a shared alignment point in between them.

Warp platform (dependent on in-game time, arrival time is always one hundred-thousandth of a second earlier than departure time)

Departure Time: XXX.XXXX

Arrival Time: XXX.XXXX

Return warp status: CHARGED. Step onto warp platform when ready.
Hanging City - Meltwater District

[

edit

|

edit source

]

Advanced Warp Core search

The Ash Twin Project requires a powerful, highly advanced warp core. How should we obtain it?

Warp Core solution 1

Solution 1: We could retrieve the warp core from the Vessel.

RAMIE: The

Vessel

's warp core is broken, at best (recall those present when the

Vessel

crashed said it sustained lethal injuries). There is no guaranteed reward for this risk.

CONOY: Perhaps we could still repair it. My grandmother told me there was little time to assess the nature or extent of the damage.

CASSAVA: Even if it no longer functions, the old core could be a valuable blueprint, provided we're able to transport it back here.

PHLOX: This would require a return to

Dark Bramble

. Plume (my father) said many good Nomai perished there.

CYCAD: My mentor (Coleus) and his old mentor once discovered and studied an anglerfish fossil on

Ember Twin

. Using that knowledge, we could avoid the anglerfish entirely!

COLEUS: What Melorae and I learned from that fossil would theoretically help us evade the anglerfish, but our hypothesis was never tested on a live specimen.

RAMIE: I remember that anglerfish fossil! We used to play in

Fossil Fish Cave

when we were children.

Warp Core solution 2

Solution 2: We could craft a new advanced warp core inspired by the Vessel's warp core.

OENO: The greatest challenge here, I think, is we don't have the design for such a powerful core, or any of the original crafters of the

Vessel

's core.

CLARY: No, but Poke was apprenticed to Annona, who created the original design, and our

Black Hole Forge

is adept at crafting simpler cores.

POKE: I believe I can be of use here! The

Vessel

's warp core was created before my time, but Annona explained many of his designs to me.

IDAEA: This is the safest path for our clan.

AVENS: Is the safest path the best one? Our goal is worth the risk.

CASSAVA: Is it, though? We've tried for so long to find something that I (and others) now believe might be impossible to find. If the search for the

Eye

is a futile one, we should choose the option with the least potential for harm.

SPIRE: Abandoning the

Vessel

's warp core and its casing means losing valuable knowledge.

MITIS: This is true; however, it's knowledge we have little hope of recovering. It would be best to relearn, I think.

POKE: I would very much like to craft such a powerful core! More relevantly, I believe the

Black Hole Forge

crew and I could recreate the basic design.

Poke's thoughts on warp core creation

POKE: I feel strange, trying to recreate Annona's warp core without him. At times, it still feels strange to no longer be his (very young) apprentice, and for the Black Hole Forge to be in my care and not his.

POKE: Hypothesis: This will always feel strange. Even though my time with him was short, I miss my old mentor, and deeply.

POKE: To have the chance to try is thrilling, but... I don't want to disappoint everyone. I think I can do this (probably), but what if excitement has clouded my assessment of my own abilities?

POKE: Was I wrong in volunteering to build it...? I was born in this star system, and never saw Annona's warp core with my own three eyes. I only know what he taught me. What if I've bitten off a larger portion than I can consume?

POKE: Still, all I can give is my best. And as Annona would say, should my best prove insufficient, then we will find another way to achieve what's needed. I have Clary and Root in the forge, and I have my clan. I am not alone!
Hanging City - Eye Shrine District

[

edit

|

edit source

]

Cassava recording

CASSAVA: I imagine I've been hard on Poke, again. This in turn means I've made things difficult for her sister (Clary).

CASSAVA: If Poke and I are oil and water, Clary is our emulsifier. She certainly makes us a better team than would mixing through shaking (although sometimes I would like to shake Poke!).

CASSAVA: Jokes aside, suppose my own fear of never finding the Eye prompted my argument with Poke. That would be immature of me.

CASSAVA: I should apologize... At least to Clary, who could then tell Poke.

Eye Shrine welcome

Be welcomed in this place. This shrine is a space to reflect on what brought us to this star system: the signal from the Eye.

We observed the

Eye

's signal in our travels, and followed it here to find its source.

What we know is this: The source of the signal (which we have chosen to call the

Eye of the universe

) is older than this universe itself. The rest, we have yet to learn.

Enter, and open your mind to its possibilities.

What is the signal

What is the Eye's signal?

Suppose the

Eye

wishes to communicate.

The signal is a call. Were we the intended audience?

The signal is the

Eye

's voice. It speaks a language we don't yet know.

Or maybe the signal is the

Eye

's attempt at expressing itself.

Of note: From the signal, we were able to determine the

Eye

's approximate age (or perhaps its lack of age?).

Eye age

How can the Eye be older than the universe itself?

Suppose it is a relic from a previous universe.

The early universe was unimaginably hot and dense. If anything existed before, it would have been destroyed.

Suppose the universe is older than previously assumed.

Solanum and the Eye

SOLANUM: I no longer believe, as I did as a child on Ember Twin, that the Eye of the universe (the source of the signal) wishes to harm us. But it may not want to be found, either.

SOLANUM: In fact, the

Eye

may not have wishes at all. We have no evidence supporting this.

SOLANUM: The terrible circumstances of our arrival here were almost certainly exactly that: circumstance.

SOLANUM: I suspect imagining we are special to the

Eye

in some way is wishful thinking. The

Eye

might have called out to any sentient species.

SOLANUM: Or it might not have been calling out at all, and that my ancestors heard the

Eye

's signal holds no great, deep meaning.

SOLANUM: This wouldn't be so bad, I think.
Hanging City - School District

[

edit

|

edit source

]

Festivals

LAMI: Explanation of Festivals

LAMI: All the Nomai clans from all over the universe meet in one place to share what they've learned in science and art. It's called the festival!

FILIX: Don't forget, festivals happen every ten years!

LAMI: We can't go because we're stuck here. But Filix says we used to go, too.

LAMI: At some festivals, one clan's big discovery can mean all the Nomai get to advance, too. Like Annona's warp core, which made it so everyone can warp long distances and explore more.

LAMI: Each clan has a festival envoy to show their most interesting work. (Our envoy was Thatch!)

LAMI: A single festival could last a long, long time!

Ilex new Vessel arguments

ILEX: Why We Should Build A New Vessel

ILEX: Each Nomai clan explores the universe in its own Vessel. The Vessel is the heart of every clan.

ILEX: It's unusual for Nomai to remain in one place for so long. Nomai are wanderers and have no permanent home.

ILEX: If we built a new Vessel, we could return to our adventurous way of life. Imagine all the new places we could go! Our clan wouldn't be stuck here in this star system.

ILEX: We could even meet with other Nomai, and learn from them, like Coleus says we used to do.

ILEX: It probably wouldn't be hard to get parts if we stopped building other new things, and if we broke down other structures (like the towers on

Ash Twin

) for parts.

ILEX: We might have to build a smaller Vessel for now, even though Vessels are normally large. But we could make it bigger later once we reach planets with more resources.

ILEX: It would also help if we stopped building so many things to search for the

Eye of the universe

. I asked Yarrow, and he says we use lots of resources on the

Ash Twin Project

.

ILEX: We could even have a warp core for jumping long distances like Vessels have. Poke tells me she plans to make a very advanced warp core for a different project. I'm sure she could connect it to the Vessel for travel (because Poke is smart).

Solanum school text

SOLANUM: Formation Of This Universe

SOLANUM: No one knows how this universe was made, but one thing we do know is everything used to be very hot and very dense (tightly packed together).

SOLANUM: As this early universe expanded, it also cooled down. Once it had cooled down enough, particles were able to group together to form things like galaxies, stars, and planets!

SOLANUM: Since then, space has continued to expand at a faster and faster rate, which is hard to think about for too long without your brain hurting.

SOLANUM: This universe will keep getting colder and larger, until one day, the stars and the life they support will all die.

SOLANUM: That's scary to think about, even though Conoy tells me it won't happen in our lifetimes. But it'll happen in someone else's, someday!
Feldspar's notes

FELDSPAR'S SPARE JETPACK FUEL

It's annoying to schlep across the planet to the ship if I can't use my jetpack, so I'm leaving this here.

I checked with my Little Scout — I do>too use it, Hornfels, ya burnt marshmallow — and the scout's integrity reading said this piece of Brittle Hollow is as stable as any, but who knows.

If the fuel's still around, feel free to use it. If not, well, wherever you're reading this note, I'm sure you've got bigger problems.

Quantum Moon observations

FILIX: Has anyone observed the phantom moon that sometimes greets us in the night sky? Your thoughts interest me.

THATCH: I compliment your eyes! How do you imagine it disappears? Hypothesis: Could it be a shift in the light spectrum?

PLUME: Suppose this moon is too shy to show us its face.

PLUME: I'm interested in your playful moon. Is it much like its violent friend (

Hollow's Lantern

)?

THATCH: Imagine if there were two volcanic moons.

PLUME: Then I imagine there'd be none of us left!

FILIX: Hypothesis: There can exist too much lava.

THATCH: I'd strongly prefer we test the null hypothesis.

FILIX: This moon isn't volcanic (to my unaided eyes). Sometimes it leaves its friend

Hollow's Lantern

for nights at a time.

PLUME: The nights the moon circles this planet appear random. It seems to travel as it likes.

Recreation of warp travel

CLARY: To our friends on Brittle Hollow: I just warped here from the White Hole Station (on the other side of Brittle Hollow's black hole)! Our design worked; we've successfully recreated warp travel!

FILIX: This is wonderful news! I can't wait to see the warp tower (although it's been a long time since I've jumped through a black hole!).

POKE: I don't know how close it is to Annona's original design, but as long as what we've built works, then I'm delighted! I knew we could do it (Cassava, I hope you're reading this)!

POKE: Wait, this can't be correct. Clary, have you seen these readings? If they were accurate, they would violate causality. There must be an equipment error somewhere.

POKE: I'm returning to the

White Hole Station

. If you and Root meet me there, we can run a full diagnostic and hopefully locate the problem.

POKE: (Don't tell Cassava.)

Warp platform (dependent on in-game time, arrival time is always one hundred-thousandth of a second earlier than departure time)

Departure Time: XXX.XXXX

Arrival Time: XXX.XXXX

Return warp status: CHARGED. Step onto warp platform when ready.

White Hole Station arrival and departure times

PYE: Ramie and I reviewed the records you sent, Poke, and they appear to show Nomai are arriving at the warp receiver on Brittle Hollow slightly before departing from the White Hole Station.

POKE: I understand it's exceedingly odd, but Clary and I have tested and retested the equipment, and the result is the same every time someone warps.

RAMIE: The interval is incredibly miniscule (roughly one hundred-thousandth of a second). Do you suppose our instruments can't accurately measure time to such a small degree?

PYE: As I've already told Ramie, these measurements can't be accurate. How can a Nomai arrive on

Brittle Hollow

before he or she ever stepped into the teleporter? The implications are absurd.

POKE: I don't disagree. It would mean I've inadvertently broken several fundamental theories regarding this universe. We would have to reconsider all of our beliefs about the nature of time.

RAMIE: Yes, I hope so, too!

RAMIE: Poke, as Pye is confident the reading is inaccurate, she's kindly helping me attempt to recreate this phenomenon at the

High Energy Lab

. We're designing an experiment to take more data.

PYE: An update: Poke, the

High Energy Lab

is in the canyon on

Ember Twin

's equator. Come here at once. You need to see this.
Entrance text

PLUME: Of note: Be sure not to wander far from here. Though this area is somewhat unstable, it's safer than any we've found so far.

PLUME: The temporary settlement is finished, but remember to be cautious of falling rocks and dust created by meteor impacts

Eye signal knowledge

THATCH: This knowledge is too dear to lose: Here is everything we can recall about the signal we encountered while aboard the Vessel.

FILIX: The signal looked like an eye: round, with a circle at the center much like a pupil. (Suppose the signal was looking for something.)

FILIX: The signal was older than the universe itself! This is the most significant detail.

PLUME: No Nomai clan has ever encountered anything like it! How can anything in this universe be older than the universe itself?

THATCH: Imagine what rare and profound knowledge it might offer. We must find this

Eye of the universe

.

Vessel crash recording

THATCH: I can't understand. Why did the Vessel crash in that place?

PLUME: Was the Vessel unwell in some way?

FILIX: No, Annona and I checked before the warp, and the warp core and navigation systems were both well.

FILIX: We warped to follow that curious signal from the Eye of the universe. Where we arrived was wrong; it wasn't where we tried to go.

THATCH: Suppose it wasn't a problem with the Vessel, but with our destination.

FILIX: I'm afraid for our friends in Escape Pod 3....

Plume's brother

PLUME: My brother wasn't in Escape Pod 1 with us. Was he in Pod 2, or Pod 3? Was he able to board an escape pod at all?

PLUME: We sacrificed too much arriving here. I cannot (I will not) allow our clan's greatest loss to be in vain.

Keek

PLUME: The pain of your absence is sharp and haunting, and I would give anything not to know it; anything but never knowing you at all (which would be worse).

PLUME: I can only hope that you are safe, Keek, wherever you are.

Foli missing

KOUSA: We can hear the other escape pods' distress signals, which gives me hope. Foli, are you still here? I am unsure how to survive in this place without you.

KOUSA: (I am unsure how to be me without you.)

Thatch and loss

THATCH: Is the hardest part of this tragedy not knowing who we may have lost? Or will the hardest part come later, when we learn? (Be well, Aunt Melorae...)

Ilex poem

ILEX: Look out, look out below!

ILEX: Look out for the gravity hole!

ILEX: For should you slip

ILEX: And lose your grip,

ILEX: Then into space you'll go!

Black Hole warning

PLUME: Use caution! A black hole sleeps below. You must not slip.

New settlement discussion

PLUME: Given concerns about our settlement's stability, where should we construct a new, less temporary shelter?

PLUME: I believe we should migrate to the northern glacier.

FILIX: What if we use gravity crystals to craft a stable path?

THATCH: Building beneath the crust again would shelter us from the

volcanic moon

's eruptions.

THATCH: We need to stay close to the

escape pod

so Filix can monitor incoming messages. We can't be rescued if we aren't present to respond.

FILIX: I don't believe anyone is coming to save us, Thatch. Now we must save ourselves.

PLUME: I agree. We're here because the

Eye

's signal called to us and we followed. If we're to find it, we need to not merely survive, but thrive.

THATCH: This is a wise point, Plume, and eloquently made. If moving to the northern glacier will keep us safer, then that is what we should do.
Giant's Deep's current

CASSAVA: Conoy, Daz and I were lifting Orbital Probe Cannon components into orbit for assembly, and one somehow sank down down(sic) beneath the current.

DAZ: Conoy, you should've seen it! We'd thought it was impossible for any cannon components to sink even partially below the current, but ours sank straight to the core!

DAZ: Cassava convinced me not to try to recreate the phenomenon myself using other cannon parts, but we're very curious to know what happened! How could something pass through the current?

CONOY: My gratitude for your interesting question! This is exciting: Spire constructed a model of

Giant's Deep

here at the

Brittle Hollow

's

Southern Observatory

, and it's revealed how an object might sink below the current.

CASSAVA: Conoy, I'm unable to grasp the answer by looking through the

projection pool

. If I visit the

observatory

, would you kindly explain?

CONOY: If you don't mind the trek beneath the surface to the south pole, I'd be delighted to see you! (The trailhead starts at

Brittle Hollow

's equator.)

Giant's Deep's cyclones

CONOY: Cassava's Construction Yard has been using the cyclones on Giant's Deep to lift Orbital Probe Cannon parts into orbit, but one component was pushed down past the current that usually prevents anything from sinking.

CONOY: Spire and I are crafting a model to determine why this happened.

SPIRE: An update: It's now clear there are two different types of cyclone.

SPIRE: Most cyclones on

Giant's Deep

rotate clockwise. These are the cyclones Cassava typically uses to send components into orbit.

SPIRE: There also exists a rarer type of cyclone that spins the opposite direction and pushes objects beneath the waters and below the current.

CASSAVA: My gratitude, Spire. Conoy is showing me your handiwork, and I'm intrigued by this secondary type of cyclone. But was it really necessary to build a model to tell me that?

SPIRE: The model will be useful as we continue monitoring

Giant's Deep

.

SPIRE: Also I very much wanted to make a model.

Knowledge of the Eye

CONOY: What have we learned thus far in our search for the Eye of the universe?

MALLOW: Based on our knowledge of the

Quantum Moon

, we believe the

Eye

is in orbit around this star system's

sun

. This would mean the

Eye

is located within a finite (albeit enormous) range.

PLUME: Those of us on the Vessel originally followed the

Eye

's signal to this star system, but we were unable to warp to the

Eye

itself.

PRIVET: The locator we built on the

Attlerock

and the new, more sensitive locator we built here were both unable to detect any trace of the

Eye

's signal.

AVENS: Hypothesis: The

Eye

has stopped emitting its signal.

CASSAVA: Suppose the

Eye

doesn't wish to be found.

PLUME: Cassava, how can you suggest that? The

Eye

's signal called out to summon us to this star system!

CASSAVA: I'm aware; I grew up hearing the

Eye

's story. Yet we're no closer to finding it than you were when you first arrived here.

New methods to search for the Eye

CONOY: How should our methods change as we continue our search for the Eye of the universe?

PRIVET: As we couldn't find the

Eye

's signal using two different devices built for this exact purpose, we should discontinue this search method.

MALLOW: We know what the

Eye

looks like thanks to the

Quantum Moon

, so what if we try to find the

Eye

visually, instead? Let's send out a probe!

CASSAVA: Mallow's idea is clever, but we have no idea where the

Eye

is in relation to here. The probability of launching a probe in the correct direction would be absurdly small.

CONOY: I believe I have a solution for that problem! Have you spoken with Ramie and Pye about the technology they're developing?

AVENS: We'd need to build a probe-launching mechanism to cover those long distances quickly. A cannon in orbit around a celestial body would circumvent the need to escape gravity's pull.

CASSAVA:

Giant's Deep

would be a good choice. It's furthest from the

sun

, so it would provide the best angles for launch. And it's moonless (except when the

Quantum Moon

is visiting).

AVENS: Yes, let's build the cannon in orbit around

Giant's Deep

!

Riebeck's recording outside observatory

I'm here! I did it! I put the ship down safely!

Um, in that the ship went down, and I didn't sustain bodily harm. A few minor repairs, and it's like the ship never even hit those rocks!

One of my better attempts. Feldspar would barely have laughed at me, I bet.

That's the good news. The bad news... I, uh, haven't found a way inside this structure yet. The door is broken, and I know I'm not great at exploring, but I think I would have found a different entrance by now if there were one. P... probably.

I can't get inside from here, but I know there are paths below the surface. I'm going to head north to the ruins on the equator to try to find a way down.
Tower of Quantum Knowledge

[

edit

|

edit source

]

Grove observations

PLUME: The trees are moving! The trees in this grove wander about freely (the entire plant, roots and all)! This is not normal, even for this alien planet. And I never see them move! Is that even possible?!

PLUME: If anyone else witnesses this disturbing behavior, I implore you, record your observations here. Either these trees are aberrant, or my brain must be!

THATCH: Plume is right; the trees do move! I confess I didn't notice until I read his notes.

THATCH: Alarmingly, it isn't only the trees: There is other matter in this area (such as that unusual shard of rock) moving in this same eerie way.

FILIX: That rock is unusual for another reason, too, Thatch: It possesses color and texture I've never seen elsewhere on this planet!

FILIX: Hypothesis: This rock shard's presence is significant. We should study it! (Could it be what is causing other nearby objects to also move about this area?)

Tower description from surface

BELLS: Beneath your feet lies the Tower of Quantum Knowledge.

BELLS: If you are preparing to make your first pilgrimage to the

Quantum Moon

, descend the steps to the entrance below. The knowledge held within will help you on your journey.

Tower Shard

THATCH: Plume, Filix, and I have determined this atypical shard of rock is the reason objects in this grove are behaving in a quantum manner.

FILIX: Of note: A unique signal is coming from this shard! Curiously, our friend the

wandering moon

sounds the same.

FILIX: I've also heard the same signal this shard produces calling out from

Giant's Deep

,

Timber Hearth

, and the

Hourglass Twins

. Suppose there are other shards like this one!

THATCH: The only other object we've observed displaying this quantum behavior is the

wandering moon

. I imagine the moon's behavior and this grove's are related.

PLUME: In her note from earlier, Filix mentions this strange type of rock isn't found elsewhere on

Brittle Hollow

. What if it isn't originally from this planet?

PLUME: Hypothesis: This "quantum shard" is from the

wandering (quantum) moon

. Perhaps it is even a small piece of the moon itself.

Bottom of the tower

BELLS: Be welcomed in this place! Above you stands the Tower of Quantum Knowledge.

BELLS: If you are making your first pilgrimage to the

Quantum Moon

, ascend these stairs, and obtain the last of the knowledge you need for your journey.

Pilgrimage information

BELLS: If you're here to make your first pilgrimage to the Quantum Moon, you are almost prepared to set out on this deeply significant journey. Before you do, pause, and remember your history.

BELLS: We make this journey not only for ourselves, but also to honor the members of our clan who came before us: those who, after the crash that brought them to this star system, became stranded on

Brittle Hollow

and on

Ember Twin

, with no communication between these two groups of survivors.

BELLS: These Nomai looked upward from two different planets and saw the same wandering moon visiting their skies. It was this moon (the

Quantum Moon

) that kept their curiosity alive during this long period of hardship.

BELLS: After the two divided groups were able to reunite, it became our clan's united goal to find and visit the

Quantum Moon

. This took time, and many Nomai who dreamed of seeing the

Quantum Moon

died before we discovered how to make the journey.

BELLS: When you reach the

Quantum Moon

, recall these Nomai, and carry their curiosity onward with you.

Solanum's mentor

BELLS: Welcome, Solanum! Your arrival here means you've completed your preparations on Giant's Deep and are ready to depart for the Quantum Moon.

BELLS: On your pilgrimage, the

Quantum Moon

will carry you, just as it carried me and many in our clan before me, to the moon's sixth and most secret location.

BELLS: You'll be aided in your pilgrimage by the shrine our clan built on the

Quantum Moon

. But remember this final rule: To explore the sixth location, the shrine must be on the moon's north pole.

BELLS: Be curious on your journey!
If you happen to slip and fall towards the black hole, its possible to slingshot yourself around it using your spacesuit's thrusters. There is a conveniently placed gravity lift extending down to black hole's edge, and lucky or skillful players that can maneuver themselves into its path can spare themselves the trek back from White Hole Station. This gravity lift will helpfully deposit the player at Riebeck's camp, which offers a campfire, oxygen, and a fuel tank.
With lots of luck or skill, you can make various jumps below the surface that traverse almost half of the planet